LIVE CLASSES
Train with our Founder, Hollie Grant, LIVE from your own home 6 days/pw
Get sweaty with our signature Pilates PT Method™, discover muscles you never knew you had with Dynamic Mat Pilates, or exercise safely throughout your pregnancy, and after, with our range of Pre & Post-Natal Classes
Dynamic Mat Pilates
This class will focus on building strength, improving flexibility, and promoting the mind-body connection. You'll feel muscles you didn't know existed and finish the class feeling taller and more mobile.
The Pilates PT Method®
The Pilates PT Method is our unique combination of Dynamic Mat Pilates and High Intensity Interval Training. Created by award-winning trainer Hollie Grant it boosts cardiovascular fitness, builds strength and definition, and improves posture, all in one fun, challenging workout.
Prenatal Pilates
This gentle Prenatal Pilates class is designed for those at any stage of their pregnancy who wish to strengthen their body, maintain good posture and take some time to focus on their breath, pelvic floor and mental health.
Postnatal Pilates
This gentle Postnatal Pilates class is designed for those at any stage of their post-natal recovery. There'll be a large emphasis on re-establishing core strength, in a safe way, and stretching out the areas most overused when looking after a baby.
MEET HOLLIE,
YOUR INSTRUCTOR
Hollie is an award winning STOTT Reformer and Mat Pilates Instructor, and Personal Trainer specialising in functional fitness, posture correction and strength and conditioning. She is the creator of the much-hyped workout technique 'The Pilates PT Method' - An innovative, results driven workout that combines HIIT, body-sculpting Reformer Pilates and metabolism boosting weight training.
Start your transformation
TRY THE MEMBERSHIP
FOR FREE
Want to try before you buy? Sign up today for The Pilates PT Unlimited Membership for free for 7-days and have full access to all live classes and on-demand classes.
MONTHLY UNLIMITED
Get unlimited access to all Live classes and all On-Demand workouts from our on-demand library
£35/month
DROP IN CLASSES
Not ready to commit? You can still enjoy our Live classes and On-Demand workouts when you pay as you go
£10/class
Your membership includes
Unlimited access to upto 10 Live workouts each week
Unlimited access to the full On-Demand library of over 250 hours of pre-recorded workouts
Unlimited access to our Beginners Pilates workout series
New On-Demand classes added daily
Pre and postnatal safe classes
Dynamic Mat Pilates live classes
HIIT Classes
Beginner, Intermediate, and Advanced Level classes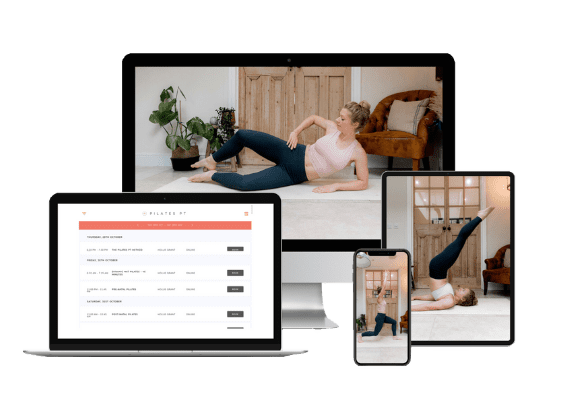 Don't just take it from us
Hollie is a great Pilates instructor! I feel in such safe hands and all the things I have learnt since joining Pilates PT has made me much more aware of my posture and how I move my body - which translates into everyday activities as well as the sports I do. I would thoroughly recommend the classes - thank you Hollie!
I've been doing Hollie's live pre-natal pilates workouts throughout my pregnancy so far and been absolutely loving them. I have learnt so much from her, she is unbelievably knowledgeable!
I really just want to say a big thank you as you are most definitely one of my positives for 2020! I decided to try your classes during the first lockdown...Not only do I absolutely love them for my own training but you've also helped me fall in love with Pilates again
Taking part in the pre-natal classes was a highlight of my pregnancy. I loved that I could continue to exercise at home with expert tuition right up to the day before I gave birth. ⠀
I love Hollie's classes - she's a brilliant teacher who gives really clear cues, and paced the classes perfectly. I love being able to access high quality Pilates from home, and the PT method sessions are a genius mix of Pilates and HIIT. Highly recommend.
The lockdown has had a few major perks and your live classes from the beginning and later the membership plan has been a real blessing not only could I do what I enjoy from home but also at a reasonable price. Hollies way of teaching is incredibly helpful and easy to imitate her availability to answer questions after classes makes the membership feel extremely personal which is lovely. The membership gives me all that I need to stay strong and the flexibility to use at convenient times for me! I hope this stays indefinitely! Thanks for all your hard work in making this service. I love it!
Hollie is a fantastic teacher. Her classes are always interesting and she explains everything in such detail so the technique and purpose of the exercise makes sense. The classes are always challenging but she does everything which such ease and fantastic technique. I can be swearing out loud and Hollie is perfectly poised, chatting throughout the exercise making it look so easy. I started doing Pilates with Hollie at the beginning of the 1st lockdown, I've done multiple classes before but she's the best teacher I've had. My body feels stronger and my flexibility has improved. Thank you Hollie.
Thank you for hosting the workshops in the first place. I find I think about all the things I've learned even while I'm teaching, and using my learnings when explaining things in class - so it really has been super.  I've loved the two workshops i've done so far so much that I've booked the shoulder workshop for this coming weekend too!
This has been my lockdown find/saviour. I've found a love for Pilates (and HIIT) I never knew I had. It's made me fitter, stronger, more flexible and had lots of positive impact to keep the mind healthy too! Take a look. Great black Friday offer! I may see you on one of the live classes, where nobody is judged and all abilities welcome ❤️
I discovered Hollie's online classes while pregnant in the first lockdown and they have taken me from the second trimester through to birth and now to eight months postpartum. They are not only fun but have been perfect for keeping and gaining strength through all my body's changes this past year. I also can't thank Hollie enough for her knowledge and supportive attitude.
Hollie's classes have been a godsend through 2020 and 2021, they have kept me moving and sane and have been a welcome distraction from all the doom and gloom. She clearly knows what she is doing and is happy to share her knowledge with you. Very inspirational classes that leave me feeling refreshed and reset each time!
I started Hollie's classes online in October 2020 and have been attending regular weekly sessions ever since; I'm really enjoying the PT Pilates Method Classes in particular; they get my heart rate high yet are perfectly combined with traditional Pilates
The live classes during my pregnancy have been key to keeping me fit, healthy and moving (especially when working from home!) Hollie is an excellent instructor, always giving safe variations and words of encouragement. I would highly recommend to anyone pregnant joining these classes.
I absolutely love your classes, they have kept me sane and fit throughout this pregnancy, I honestly don't know what I would have done without you and your array of live and on-demand classes. I am extremely thankful to Yasmine for having connected me to you and look forward to training with you both post-natally
I am really enjoying the plan! I am expecting my second child and also juggling work - the workouts have felt realistic and achievable with the 20-30 minute timings so I have been able to fit them in amongst other commitments. I also love the flexibility of the on-demand sessions. I am enjoying browsing through the education hub and also signed up to the Hypnobirthing digital pack from my welcome goodies, which I am finding very beneficial for labour prep too!
I am really glad to have discovered Pilates PT on Instagram last year. I was a complete beginner, but the way the classes were taught made it very easy to follow. I appreciate how Hollie takes the time to explain the different variations of the same exercise so I can pick the one that is suitable for my level. And the fact that there is an on-demand option means that I don't have the excuse to be too busy to practise!
I never GOT Pilates - the breathing, the neutral spine, engage your core - what does all that mean? With Hollie - it all makes sense and the explanations are REAL life - I never let my glass of champagne or cup of tea slip off my back. Pilates is now a key part of my routine - and actually a key part of my life. Hollie - thank you
I'm so happy I found out about Hollie's classes in early pregnancy. Her classes challenge me, but in a safe supportive way, and I love how there's a range of classes for each stage of pregnancy.
PilatesPT has changed my life so much. The combination of Pilates and HIIT has increased my fitness, flexibility and posture. I understand my body better do get more out of all exercises and my everyday movements are better and safer - much less backache than before! Thank you Hollie!
I started PilatesPT live classes 12 weeks post c-section- it was the best decision i made for my physical & mental health. I was getting stronger by the day & when lockdown eased i really felt i had achieved something positive. I switched to the Pilates PT Method Online & within 8 weeks i had made so much progress from these short sessions it was incredible. Pilates is now part of my routine & i feel so much stronger than i was pre baby especially in my core. Hollie is the best , approachable, kind & most of all so passionate about what she does. I cant recommend Pilates PT enough- it really has changed my perspective on my body & exercise.
I also just wanted to tell you that I absolutely love Pilates now and that's all down to you - my first ever Pilates experience was last June for prenatal Pilates, then I did your postnatal Pilates class and I finally did my first "proper" mat Pilates class this week - I loved it. I now can't imagine my life without it - thanks so much!
I absolutely love the on demand- and live classes with Hollie - the wide variety of exercises in each class and her energy and inspiration makes the classes something I look forward to each week! Pilates and Hiit are such fantastic ways of working out and makes me feel strong and empowered after each class. Can't thank you enough Hollie for creating these classes, I've recommended all of my friends to try out your membership as well! Thanks a lot,
I love Hollie's classes, she is a great instructor and her classes are really easy to follow. They have definitely got me through the lockdowns over the past 15 months
I discovered the bump plan classes in my second trimester and they made such a difference to my pregnancy. I love the fact that they prepare you for after birth too, and I am convinced my speedy post-natal recovery is largely due to them. Since 6 weeks postpartum I've been doing the postnatal classes and can't believe how much my strength has returned already. It is great to have access to such knowledge, and rebuild core strength safely and sustainably. I cannot recommend these classes enough for during and after pregnancy, and I'm excited to move on to the more challenging classes soon!