Pelvic Girdle Pain, or PGP as it is often referred to, is the term used to describe any pain within the pelvic area during pregnancy. It used to be called Symphysis Pubis Dysfunction (SPD), however this has changed to PGP as pain can be felt in all or some joints of the pelvis. The most important message is that there IS help and it does not have to be left to get worse throughout your pregnancy. Also, if this is your second or third pregnancy and you have had PGP before, getting help early on can make a real difference to your pain and experience of pregnancy. Pelvic health physiotherapists are specialists in supporting women with PGP, so please do not suffer in silence. I hope this article will support you to help yourself and access support.
So let's start by looking at the pelvis and where you might feel pain or discomfort. The joint at the front of your pelvis is called the symphysis pubis, and at the back where the base of your spine joins to your pelvis you find the sacroiliac joints.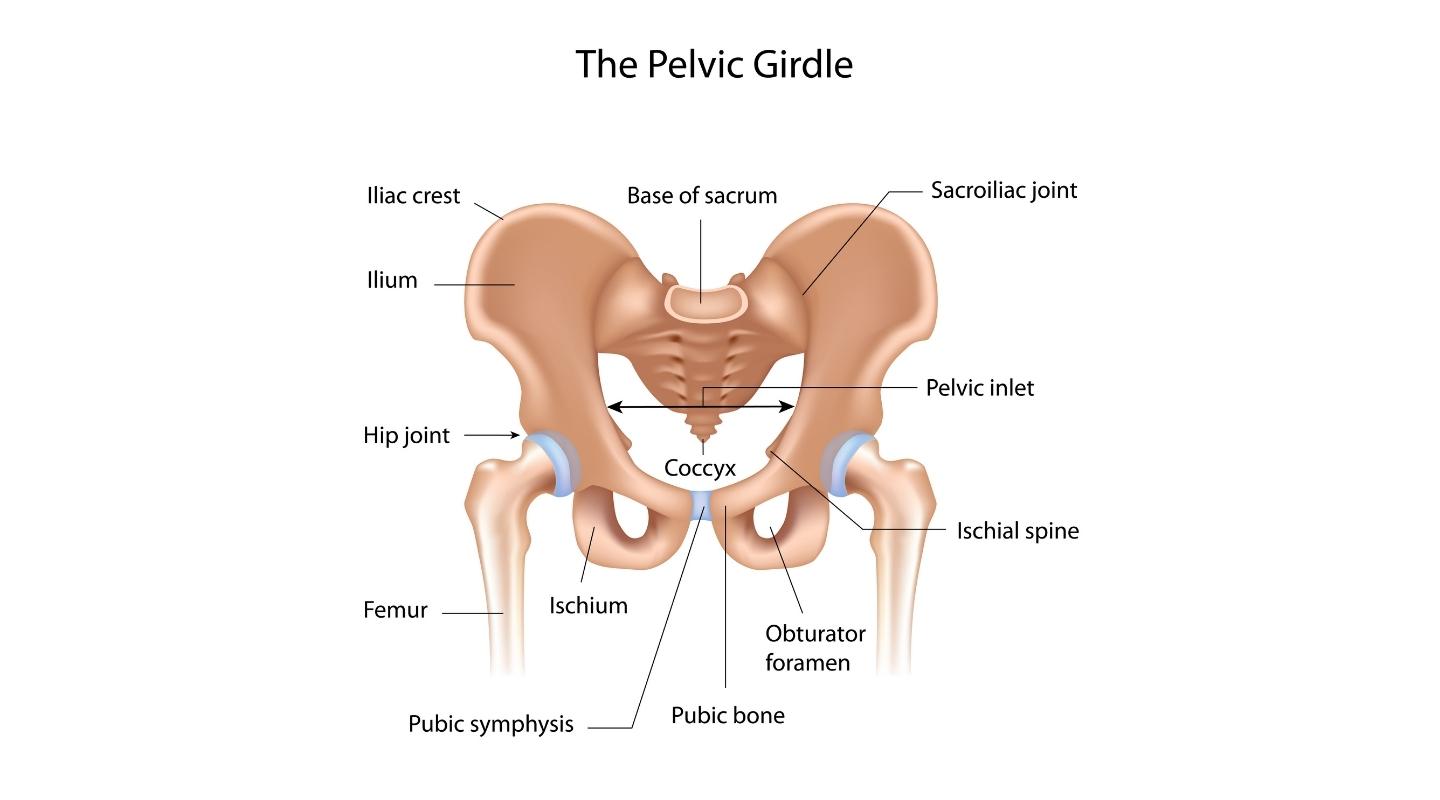 What is pelvic girdle pain and why does it happen?
PGP is the term used to describe pain in the joints mentioned above. The pain may also be felt in your hips or down your legs. Everyone will experience slightly different symptoms. For some women the discomfort is mild and they can carry on without many changes, however for some the pain will be very debilitating and some women end up needing crutches. However, as I have said before, early help and intervention is the key message so don't worry, just ask for help.
There are usually a variety of factors that result in a woman experiencing PGP, including changes to the muscles and connective tissue that surround the pelvic joints. If you have had a previous injury to your pelvis you may also experience more symptoms of PGP.
Who does pelvic girdle pain affect?
PGP can affect any women during their pregnancy, from early on or just in the last few weeks or days. It is thought that around 1 in 5 women will experience some symptoms during pregnancy, so if you are experiencing this you are very much not alone.
You may be more likely to experience PGP if you have a previous history of back or pelvic pain, this is not your first pregnancy, you have a hypermobility condition or a previous injury to the pelvis. If you identify with any of these it can be worth being proactive and seeing a pelvic health physiotherapist before any symptoms start or at the first niggle. You can flag these at your booking appointment with your midwife and ask about what NHS services are available for you.
What might you feel with pelvic girdle pain?
The biggest symptom women will report will be pain in the joints mentioned above . Alongside pain, the activities that you might find more challenging or that aggravate your pain are:
Walking

Standing on one leg

Getting in and out of the car

Rolling in bed

Getting in and out of bed

Climbing the stairs

Carrying older children
Some women will hear audible clicking and some will struggle to have sex due to the pain.
Whatever anyone says to you these symptoms are not normal for pregnancy and they are NOT something you have to live with.
What can you do to help with pelvic girdle pain?
The best thing to do is to flag your symptoms early to your midwife or GP and discuss if there is any access to pelvic health physiotherapy services in the area.  You may also want to look on the Squeezy App directory to find out if there are NHS services in your area as not all medical professionals will have awareness of this.
If you are struggling to access NHS care and you are able to access private help then you can use the same website to find someone in your local area. You may also want to search for an osteopath or chiropractor who specialises in pregnancy.
In the mean time there is lots of general advice that you can follow to help your symptoms:
Don't push through pain, listen to what your body is telling you. Modify movements where possible

Sit down to get dressed and put on shoes to avoid standing on one leg

Use pillows between your legs, aiming to keep legs parallel and symmetrical

Take smaller steps when walking

Take the stairs one step at a time

Sit where you can for tasks such as cutting up vegetables etc

Wear supportive shoes and really try not to wear heels….your pelvis will thank me, even if your style takes a hit!

Try not to sit cross legged on the floor or a chair

When turning in bed try keeping your legs together. Squeeze them together with your bottom muscles and use your upper body to help you roll. Also try rolling under and see if that feels better for you.

Use a plastic bag under your bottom to help you get in and out of the car. It helps you to twist

Try to get support with the housework and shopping. As, using a hoover and pushing a shopping trolley can really aggravate PGP

Talk about your experience with family and friends, as well as your midwife or doctor. Don't underestimate the emotional impact of PGP.
What would physiotherapy input involve?
Seeing a physiotherapist will involve an assessment of your back, pelvis, muscles and movements to work out what is contributing to your pain. Treatment will vary but may include; muscle release work, strengthening or stretching exercises, advice about support belts, and advice about any exercise you are doing at that time. If you require crutches a physiotherapist will help to provide these and will discuss any tips for labour that may help you.
Is it OK to exercise with pelvic girdle pain?
Yes, for most women exercise can actually help PGP and we know that exercise is important and beneficial for most pregnant women. Ideally individual advice would be available for every women with their own prescribed and personal exercise plan. Being active in pregnancy is essential and therefore it is finding what you are able to do that does not aggravate your symptoms. This might mean that you can do squats but walking is a problem. Or, you can do squats but not lunges.
Generally women find exercises where the legs move apart or single leg work more aggravating. But, this can be different for everyone, so listen to your symptoms during and after the exercise session. You can modify exercises in many ways, reducing the range of the movement, for example how low you squat. As I say, individual help is always best. But, if you are struggling to access any help, you don't have to avoid all exercise but make sure it is helping and not hindering. As a general principle, working on gluteal (bottom) and core strength helps a lot of women. If you love swimming you may want to stick to front crawl as breaststroke can aggravate the pelvic joints.
Make sure to check out The Bump Plan Pregnancy for safe pregnancy workouts suitable for any trimester
Can you have a vaginal delivery if you have pelvic girdle pain?
Yes you can. But, it's important to discuss this with your midwife or doctor during pregnancy and during your birth preferences conversations. The most important thing is that you feel supported and that care is taken to help you into positions that will not aggravate your pelvis further during the delivery. Positions where gravity can assist birth, for example kneeling or standing can help. If you have an epidural and are lying on your back then it can help to measure the 'pain free gap'. This is the distance you can take your knees apart before you feel pain in the pelvis.
This is particularly helpful if you have pain in your pubic bone. During labour your birth partner and midwife can help to support your legs in your pain free range. However, to deliver the baby your legs might need to be moved slightly further apart. If you legs need to be placed into stirrups during or after delivery, care should be taken to lift both legs together.
---
Helpful Resources
Related Blogs
If you enjoyed reading this article on pelvic girdle pain and would like to discover more about prenatal fitness and your changing body I would love you to check out my pregnancy exercise program 'The Bump Plan' for FREE today – simply click

here

to get started
---